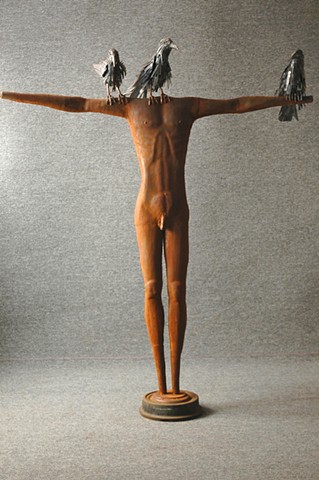 I have had a long career as an actor, scenic artist, designer, street performer (wire walker), dancer and puppeteer. The majority of this work is in itself sculptural, and in the last 25 years my focus has been primarily figurative metal sculpture.
My work is descendant from the steel craftsmen/artists David Smith, Gonzales and Cesar, who brought industrial metalworking techniques to art. As an artist, I feel that I must make every part of my pieces. I forge, hammer, weld, and patina every piece; no assistants or foundries. I have developed a repousse technique in 16 gauge steel that is unique to my work, and allows me the freedom to create large yet light figures.
All of my work has sought to explore the hubris of humankind that we are the "dominant species". From an early work Turtle Dreams, a turtle cavorting in a skeletal human rib cage, to my most recent work Scarecrow, which is a portrait of the interface between nature and the human species, I have explored this edge.